Gear Review
Hydrapak's Big Sur and Morro Backpacks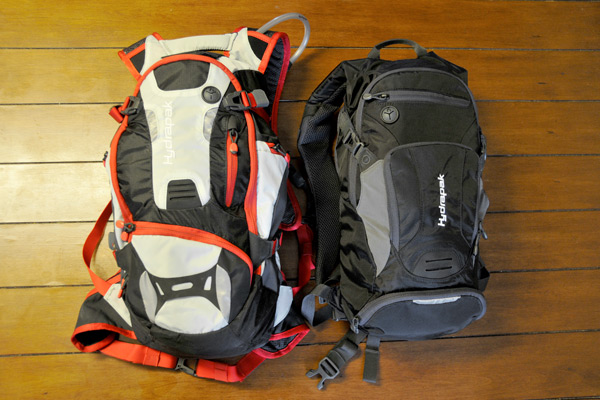 Hydrapak's Big Sur and Morro packs
For the Winter 2011/2012 season, we are launching a new gear review section here at The Mountain Pulse and are excited to start researching, testing and reviewing some great gear. First up, our friends at Hydrapak and Outside PR hooked us up with a couple hydration packs that will definitely keep your H2O close at hand when you are out working up a thirst. The Morro and Big Sur packs have some great features that are setting them apart from other packs in the market. While we may be heading right into the winter, these two packs are definitely more suited for mountain biking and hiking than skiing and snowboarding.
Hydration Reservoir
Hundreds of companies make backpacks, but only a few make hydration bladders which make the features of the Hydrapak reservoir that much more important. The biggest thing that sets this reservoir apart from others on the market is its ability to be turned inside out. Anyone who owns a hydration bladder will tell you that cleaning and drying it is no easy task. If the pack sits on your shelf for a few weeks between uses, even the smallest amount of moisture can leave a musty or mildewy taste in the bladder. Allowing the reservoir to be opened up, cleaned and dried, keeps bacteria from forming inside and keeps the musty taste down. Also the tube has a plug and play connection to the bottom of the reservoir making it easier to take just the bladder from the pack to refill or clean. Other features:
Available in three sizes: 1L, 2L & 3L
Bite down surge mouthpiece
Twist on/off mouthpiece
36″ flexible tubing
Magnetic 'Quantam' clip
PVC and BPA free
Plus Side: Opening up the reservoir to dry was pretty easy. Slide off the bar on top and pull apart the plastic zipper-like connection in the middle of the bladder. Not something I would do between every use, but definitely easier than trying to scrub the inside of a Camelbak.
Down Turn: The standard tubing for the Hydrapak reservoir is not insulated. Winter activites, escpecially in Jackson where temps hover near the zero mark, require an insulated tube to keep the water from freezing and blocking the flow. Hydrapak does sell an insulated tube for $14.99, but does not come standard with their packs.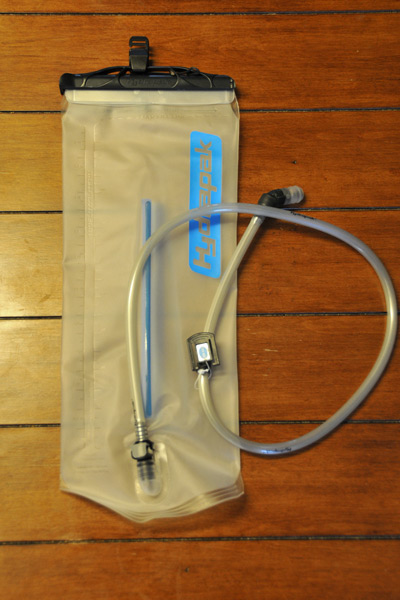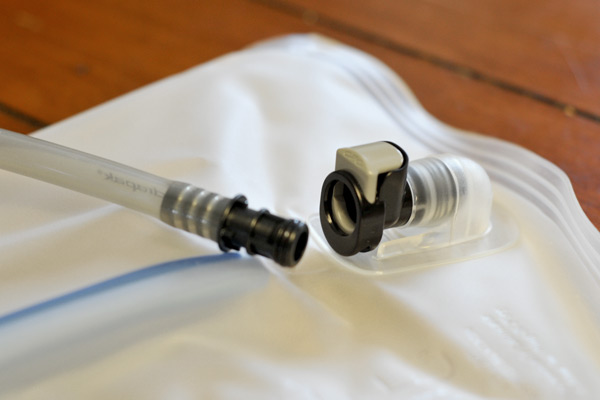 Morro
Hydrapak's second largest pack at 800 cubic inches, the Morro has the padding and load bearing structure to make it comfortable even when fully loaded. The pack sits well and your gear won't be jostling around when downhill mountain biking or cycling. Other features:
Includes 3L reservoir
800 cu. in of storage
Back compartment for reservoir
One large main compartment and four smaller outside pockets
Ripstop nylon material
Reflective fabric patches
Ventilated shoulder straps
Breathable and moisture wicking back badding
Packable waist strap
Sliding chest strap
Plus Side: Super light and super comfortable. Even with a full reservoir and packed full of gear, you would barely notice you have an 800 cubic inch pack on. Ventilated straps and breathable back padding allow the breeze to flow to places where sweat normally soaks your shirt through.
Down Turn: I really want these packs to be suitable for skiing and snowboarding but I am having a hard time believing that they would stand up to the beating. The clips on the side may be adequate to carry a pair of skis, but no snowboard carry? Us snowboarders have to work that much harder to get into backcountry game, and we get thirsty too.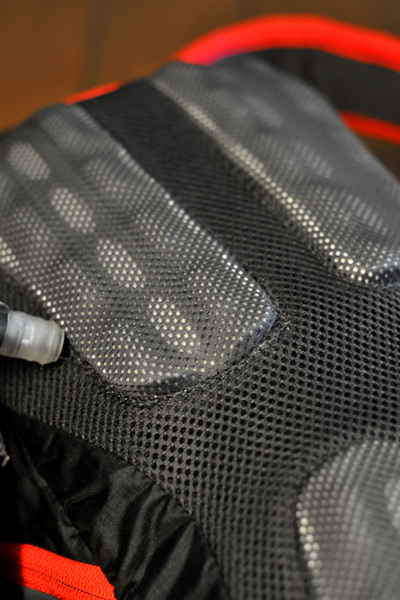 Big Sur
The Big Sur is Hydrapak's best selling and most popular backpack. It's lightweight, durable nylon material and comfortable fit make it perfect for day excursions into the mountains. Reasonably priced at $99.99, the Big Sur will get you where you want to go with enough water and a small amount of gear. Other features:
Includes 3L reservoir
450 cu. in of storage
Back compartment for reservoir
One large main compartment, three smaller outside pockets, one stash pocket
Ripstop nylon material
Padded shoulder straps
Breathable and moisture wicking back badding
Removable waist strap
Sliding chest strap
Plus Side: Again super light and very comfortable. A great smaller option when you dont need to carry much besides water, a shell, tools and food. No need to weigh yourself down on short day hikes or biking trips.
Down Turn: Not as much breathability on the shoulder straps and back padding as the Morro. The waist strap has no padding and the material in the should straps is loose inside and twists just a bit when the pack is fully loaded.