Sherpas Cinemas All.I.Can Screening
Twin Cinema, Jackson - Oct 1st, 2011
All.I.Can. Official Teaser from Sherpas Cinema (Make sure you watch this one in full screen)
Film premiere season is in full swing in the ski and snowboard industry. With an unprecedented number of trailers bombarding the social networks this year from producers like Teton Gravity Research, Brain Farm Cinema and Matchstick Productions, it has been easy to get lost in all the hype. Early last spring, a teaser from an up-and-coming Canadian production company silently started to make ripples under the radar. The trailer for Sherpas Cinema's All.I.Can not only promised big name skiers, exotic destinations and breathtaking cinematography, but also a film with a message. All.I.Can sets out to amp the masses for the upcoming winter season, and at the same time raise social awareness of the impact humans have on the climate and environment. We are proud to team up with Lynsey Dyer and SheJumps.org to bring All.I.Can to Jackson Hole and hope you will join us on Saturday October 1st to see this amazing film.
Saturday 10/01/11
Twin Cinema – Jackson, WY
9:30pm
$14
Tickets are available at the Twin Cinema Box office for pre-purchase
Raffle Prizes
Check out the Facebook Event Page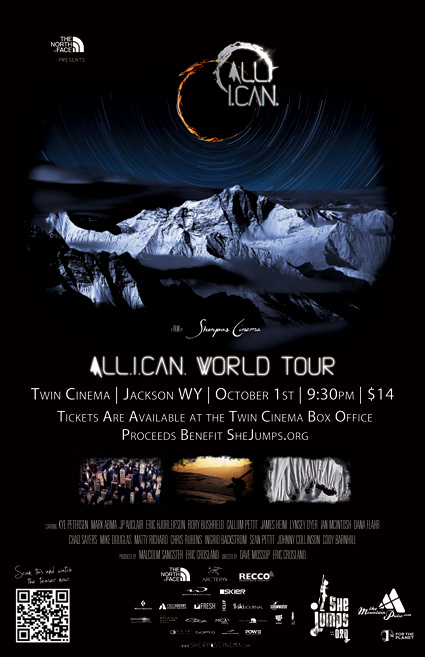 From Sherpas Cinema:
Sherpas Cinema, the groundbreaking film team deeply rooted in authenticity and progression, present their newest film – 2 years, 5 countries and over 15 skiers in the making: All.I.Can.
The time has come for a ski film that stands for something. Join Sherpas Cinema as they unite spectacular cinematography with creative cinematic language to fuse passion for skiing with motivation for green initiatives and forward thinking. In bringing the planet to life and drawing parallels between daily existence, they find a common ground between the global situation and the real individual.

Sherpas Cinema has been an established entity in the North American ski-film industry for over 8 years now and they are set apart from the norm through their unbridled creativity, artistic flare, and motives of environmental and educational consciousness. Their film, All.I.Can., is a spectacular visual and emotional journey from the personal to the world perspective.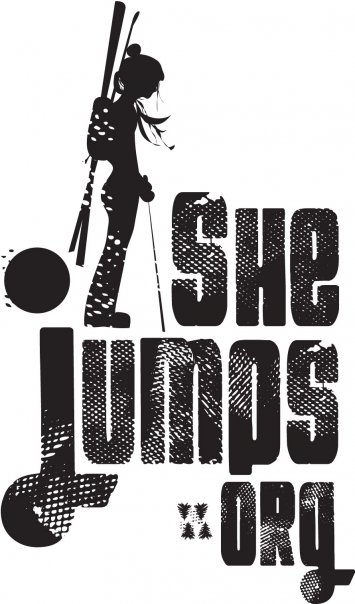 All proceeds benefit SheJumps.org
SheJumps is an organization with a mission to increase participation of women in outdoor activities. Our vision is to mobilize communities in order to get more people into the outdoors. Although our mission focuses on women, male allies are extremely important to our cause. We do not discriminate against anyone, but just ask that you be willing to take a "jump" to realize your potential and be the change you want to see in the world.

Right now we are working on creating programs that are structured around helping to get more people outdoors. We understand that athletes need ways to give back and share their passion with different people. Not only does this help their individual careers, but it will help other people to realize their dreams and start striving for the top.