Teton Fly Fishing Report
Wednesday August 31st, 2011
Snake River Tributaries
The Snake River in Jackson Hole has fished very well over the past week. Afternoon showers have produced good mayfly hatches, in particular the Timpanoga Hecuba (Snake Drake) and Infrequens PMD. Both of these are large bugs, sizes #10-14. The Snake River Cutthroat pay attention when these morsels are about and the larger fish often prefer them over other available bugs. Hatches are best on cloudy, overcast days, but fish these flies anytime in all water types.
Our fall stonefly, Claasenia Sabulosa, is also present on all stretches of the river. This stonefly hatches predominately in the evening and overnight. The males do not have fully formed wings, so this is why you won't see alot of these bugs flying around. The females do have wings and fly, typically after they have mated and are returning to the water to lay their eggs. Egg-laying flights have not begun yet, but look for them in the next week or so.
Fish Stonefly patterns in all water types, especially fast moving banks and runs. This bug is large enough to get Cutthroat to eat in big water. Remember to twitch your imitations as the males skitter across the water since they cannot fly.
Best Flies: #10-12 Parachute Adams or Hare's Ear, #10-12 Ausable Wulff, #12 Snake Drake, #8-10 Water Walker (Tan, Golden, Pink/Red), #12 Lawson's PMD Cripple
-JB
Best Flies for Snake River Tributaries
Fly: Parachute Adams
Size: #10-12
Details: The Parachute Adams is perhaps the most important and versatile of all dry flies. It is a must have dry fly. The white post gives the fly fisherman a focal reference point in all types of water. The pattern can be used as a mayfly or as a searching or attractor fly.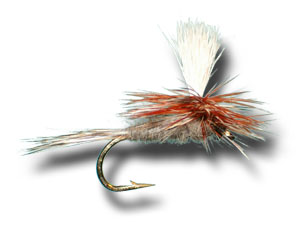 Fly: Ausable Wulff
Size: #10-12
Details: Tied as a full-bodied attractor pattern in the Wulff-style, this pattern is an excellent attractor pattern for western rivers. With the traditional upright and divided wings and light body coloration it is a good attractor pattern when the Green Drakes and Slate Drakes are on the water.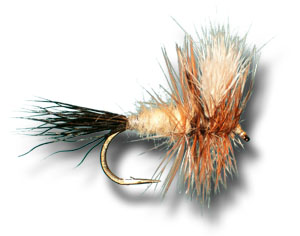 Fly: Lawson's PMD Cripple
Size: #12
Details: "Cripple" patterns represent mayflies that are either just emerging or that got stuck in the shuck while emerging. In either case, the insect isn't going anywhere soon. Trout recognize this vulnerable condition and feed eagerly on cripples when they see them.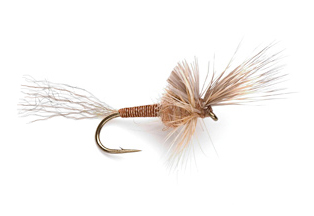 If you are interested in locally tied flies, please contact Fish the Fly at jb@fishthefly.com
Presented by Fish the Fly Guide Service
Fish the Fly Guide Service is a group of knowledgeable and patient Jackson Hole fly fishing guides. They are proud to give back to the river resource through time, energy, and funds with the Snake River Fund and Trout Unlimited. They also support eco-minded global fly fishing adventures. Contact JB at 307-690-1139 to book a trip today!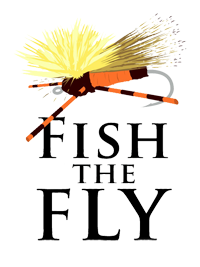 Previous Fly Fishing Reports
Other Posts from The Mountain Pulse