4th of July Weekend in the Tetons
Music, Fireworks and so much more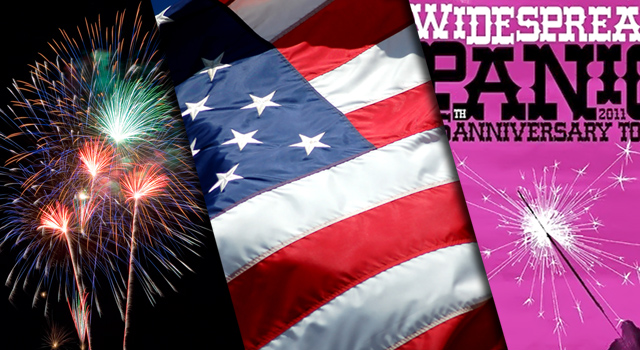 Life, liberty and the pursuit of happiness. It is hard to imagine a better venue to celebrate our great nation's independence and the values it was founded upon than Jackson Hole. At the doorstep of our first National Park, we are blessed with such a beautiful, unique wilderness to call home. The weekend is ours to enjoy mountain biking, hiking, fishing, rafting, kayaking, or just relaxing. Events have been planned in Jackson, Victor, Teton Village and Grand Targhee, and the weather is forecasting to be nothing short of spectacular. So unfurl the flag, fire-up the grill, put some American craft beer on ice, and get ready to enjoy the show.
Widespread Panic at Grand Targhee Resort
Friday, Saturday and Sunday July 1st-3rd
For the second summer in a row, Widespread Panic is coming to the western slope of the Tetons to celebrate the 4th. This year, on their 25th Anniversary Tour, they'll stay at Grand Targhee Resort for a three night set that is dialing up to be the biggest event in resort history. Along with guests like The New Mastersounds, Jerry Joseph and the Jackmormans, Dirty Dozen Brass Band and more, WSP is set to put on quite a show. Music starts at 6pm each night and with late night shows getting under at midnight, and rolling on until 2:30am. Head over to Grand Targhee for details about the event including tickets, camping and parking.
Show Schedule
Friday July 1st
6:00pm
Main Show Doors
6:15pm -7:00pm
J-Boogie
7:00pm – 8:00pm
Dirty Dozen Brass Band
8:30pm – 10:00pm
Widespread Panic Set 1
10:00pm – 10:30pm
Set Break
10:30pm – 12:00am
Widespread Panic Set 2
11:55pm
Late Night Doors
11:55pm – 12:55am
J-Boogie
12:55am – 2:30am
The New Mastersounds
Saturday July 2nd
6:00pm
Main Show Doors
6:15pm -7:00pm
J-Boogie
7:00pm – 8:00pm
The New Mastersounds
8:30pm – 10:00pm
Widespread Panic Set 1
10:00pm – 10:30pm
Set Break
10:30pm – 12:00am
Widespread Panic Set 2
11:55pm
Late Night Doors
11:55pm – 12:55am
J-Boogie
12:55am – 2:30am
Dirty Dozen Brass Band
Sunday July 3rd
6:00pm
Main Show Doors
6:15pm -7:00pm
Michael Menert
7:00pm – 8:00pm
Jerry Joseph and the Jackmormans
8:30pm – 10:00pm
Widespread Panic Set 1
10:00pm – 10:30pm
Set Break
10:30pm – 12:00am
Widespread Panic Set 2
11:55pm
Late Night Doors
11:55pm – 12:55am
Michael Menert
12:55am – 2:30am
Jerry Joseph and the Jackmormans
Widespread Panic "Feelin' Alright" from Possum Den Productions
Set one closing song from Friday April 15th, 2011's show at the Birmingham Jefferson Civic Center.
Other Events in Victor and Driggs
Friday July 1st – Monday July 4th – The 30th Annual Teton Valley Summer Festival
The Teton Valley Summer Festival features Hot Air Balloons, the traditional Community Fourth of July Celebrations, Arts and Crafts, a Street Fair, a myriad of Recreational Activities, numerous food service and social events, and a whole lot more! For a full list of events visit the Teton Valley Chamber of Commerce
Saturday July 2nd – Celebrate America Event at Huntsman Springs
All-day Street Carnival, Patriotic Music, and a Fireworks show at 10:00pm. For more information check out www.celebrateamericaevent.com
Monday July 4th – Victor 4th of July Parade
A classic 4th of July parade rolls down Main Street in Victor starting at 10:30am
Red, White and 2 at Jackson Hole Mountain Resort
Sunday & Monday, July 3rd & 4th

One day is never enough to celebrate our independence, so Jackson Hole Mountain Resort is putting on the fireworks show 2 days in a row. Teton Village has always been a outside activity destination for hiking, paragliding and horseback riding and now hosts a new world class mountain bike park and trail system to help you work up a sweat during the day. Extended hours for both the Tram and Gondola will allow you take in the view until last light on these long summer afternoons. Jackson Hole Mountain Resort has never looked better thanks to the newly remodeled Village Commons area which provides a lush seating area for music before the fireworks get started. We may even see some diehards with skis slung over their shoulders rolling into the village for a 4th of July apres session
Schedule of Events
Live music Sunday at 7:00pm in the Village Commons
Jazz Foundation of Jackson Hole
Live music Sunday at 8:30pm in the Village Commons
Brass in Blue: USAF Heartland of America Band
Live music Monday at 6:30pm in the Village Commons
Monkey Wrench Gang
The tram will run extended hours until 8:30pm
Free Gondola rides starting at 4:30pm
Fireworks begin at 10:00pm on both nights
Dining on Monday July 4th – The Deck at the top of the Gondola opens at 4:30 for drinks and appetizers. Dinner reservations available at the Couloir Restaurant
Come check out why Jackson Hole Mountain Resort will soon be known as a world class mountain biking destination.
Grand Teton Music Festival's Music in the Hole, Fire in the Hole Fireworks show and more in Jackson
Monday July 4th
The 4th of July festivities run all day long in the town of Jackson. Start the day off right with the Jackson Hole Jaycees pancake breakfast and the 4th of July parade on the historic Town Square. Head over to Alpine Field near the high school to catch live music from the Grand Teton Music Festival and stick around for one of the best fireworks displays in the country.
Schedule of Events
8:00am to 10:00am – Jackson Hole Jaycees Pancake Breakfast
The Jackson Hole Jaycees get the day started off right with a hearty pancake, sausage and egg breakfast served on Center Street next to the Town Square. $10 for adults/$5 for kids. All proceeds benefit the Jackson Hole Jaycees firework show and scholarships for local students.
9:00am to 11:00am – Skinny Skis & Pearl Street Bagels 10K Run
The race starts at the Owen Bircher Park in Wilson and registration begins at 7:30 am. Benefitting Friends of the Pathways
10:15am to 11:15am – 4th of July Parade
The 4th of July parade starts at the Rodeo Grounds, makes its way down Glenwood and then past the Town Square on Broadway. Floats, horses, fire-engines and all, presented by The Howdy Pardner's Ambassador Club
3:00pm – 6:00pm – 15th Annual Music in the Hole
Get out to the lawn at Alpine Field early and stake your spot to watch the music put on by the Grand Teton Music Festival. Performances include the Jackson Hole Community Band, King Street Ramblers, Air Force Brass in Blue and the Grand Teton Music Festival Orchestra.
8:00pm – 10:00pm – Jackson Hole Rodeo
The historic Jackson Hole Rodeo puts on a special 4th of july performance at the Rodeo Grounds on Snow King Ave.
10:00pm – Fire in the Hole Fireworks Show
Every year, the sky above Jackson is lit up by the spectacular display of the Jackson Hole Jaycees fireworks show. Enjoy the view from just about anywhere in town, but get to the Snow King lawn early if you want the best seats in the house. What a way to finish off the weekend.
The Mountain Pulse would like to send out a special thank you to all our troops overseas and at home who put their lives on the line for our country. Thank you to all the folks who have worked hard to put together all these great events. Be safe out there Jackson Hole, and remember enjoy yourself responsibly.