Earning Her Turns: Dani DeRuyter
Written by Robert Cocuzzo
I aspire to be a snowboard mountaineer. I would be happy if I never rode a chairlift ever again
These days, there are fewer and fewer "First-to" awards handed out. Most are generally linked to innovation, technological breakthroughs that create the accolade. In more traditional pursuits such as skiing and mountaineering, however, the "First-to" trophy case is pretty well stocked. That truth is even more apparent here in Jackson Hole. The drive to conquer peaks and navigate the unknown is sewn into the spirit of this community. As a consequence, few first ascents and descents remain unchartered. Those that do, serve as triggers for progression, the catalysts of tomorrow's possibility. So when 28-year-old Dani DeRuyter became the first female to snowboard down the Grand Teton last March, the accomplishment echoed through the Valley and beyond.
The Mountain Pulse Team sat down with Dani at The Stage Coach to discuss her life before and after the Grand.
MP: Where did you ride growing up?
DD: Weekends and holidays were spent in Bretton Woods, Attitash, Waterville Valley, Sugar Loaf, Jay Peak; I think I have a little pin from every resort in New England.
MP: When did you start taking your snowboarding seriously?
DD: I remember working at Sugar Bush for few years teaching. One day, one lift was broken and closed for a week. It was on this perfect ridge, and it was just puking. Everybody was so excited in Vermont because "puking" is like 12 inches (laughter). And the whole week it was closed. So we just hiked it. I had never hiked before. That first run, I thought "No way! I will earn my turns any day if it's this good."
MP: When did you move out West?
DD: I moved out to Seattle in '04, and lived there for a year. It was harsh. I got to ski some of best mountains ever: Whistler, Baker, Crystal… but I had never not lived mountainside. I was living in downtown Seattle. I eventually moved to Montana then to Jackson in the summer of the 600" year, so in '07.

MP: What drew you to Jackson?
DD: The terrain here is endless. I have yet to be bored. I think it is all of Jackson that is so amazing to me. I mean just off the chair lift is amazing. Then I started exploring, going beyond my limits every time I got the chance.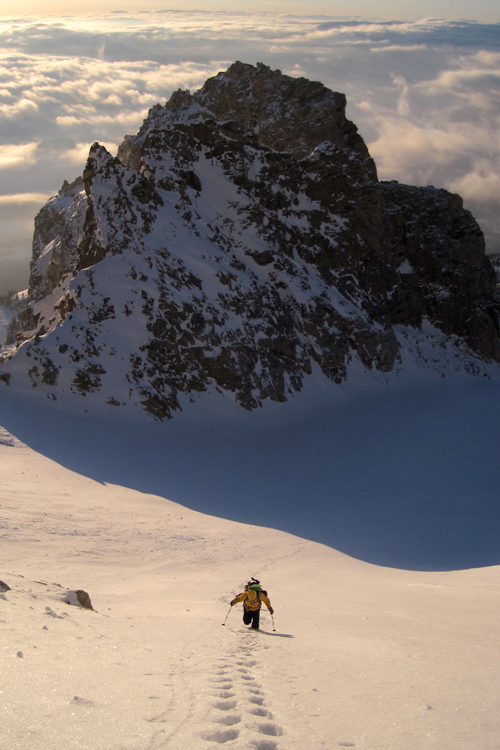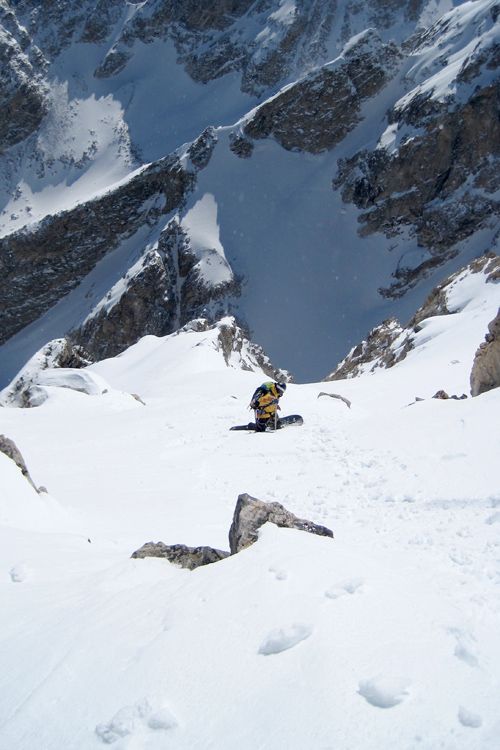 MP: When did you get into what Bill Briggs would call "Snowboard-mountaineering?"
DD: I was just surrounded by amazing athletes wherever I was. I was lucky enough to be around these people who showed me how beautiful climbing is, and that you can snowboard in the Tetons all year round. You can go into the park July and August, and still catch turns. And that's when the mountaineering came into effect. I started doing things in the Park, looking for summer turns.
MP: Stephen Koch was the first to snowboard the Grand, what influence did he have on you?
DD: Stephen definitely inspires me. He is a good friend of mine, and he is just so pumped on everything. He has this adventure tick in his body that he just has to summit things—you can feed off that. He makes you think of things in broader aspects. Usually you would just climb up a ridge, and he will look at it and say "well if you can do this, then traverse over and then climb, then get some ropes, and get up there…you could ski that." I love being surrounded by people like that.
MP: What projects are you working on now?
DD: I am trying to focus a lot of time on skiingthebackcountry.com. They have this great site that you can use to track your vertical, and track your days. Everything is mapped out for the whole season. It is also a safety resource for anyone skiing the backcountry. You can find out what the snow pack has been like in that certain part of the country before you go out.
MP: Do you have a goal for this winter?
DD: Skiing 500,000 vertical feet.
MP: Do you see yourself as a snowboarder, or what Bill Briggs would call a snowboard-mountaineer?
DD: I don't know if I can put myself in the mountaineer category yet. I love to summit things. I love to be on the top of things. I love seeing the beauty of all of that. My day is satisfied when I can get to the top of peak and just smell the air. I aspire to be a snowboard mountaineer. I would be happy if I never rode a chairlift ever again. I would die happy if I never got onto another chair.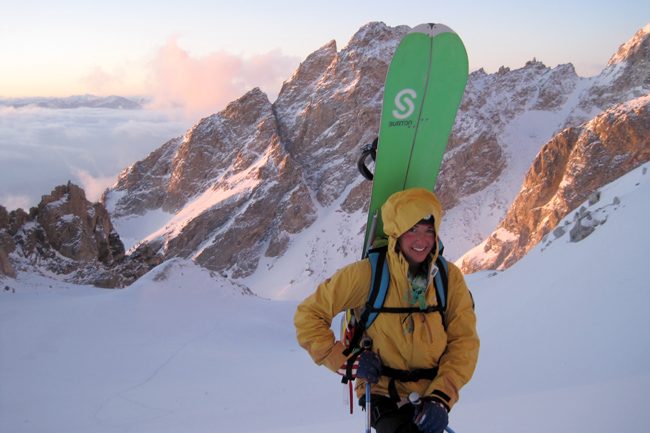 Everyone gets scared, that's what keeps you alive. If you are not scared or humble, you're probably not going to make it.
MP: Many are deterred by the physical exertion of hiking for turns, is that a place you like to go to?
DD: I am sure I am crazy to some people, but I love it. I get into this zone when I am hiking or skinning. Everything kind of just goes away. My body gets into a rhythm. When you find that rhythm, it's priceless.
MP: When you are making those first turns in a no-fall zone, where are you mentally?
DD: Everyone gets scared, that's what keeps you alive. If you are not scared or humble, you're probably not going to make it. But you are just in the moment: you're not a second ahead, you're not a second behind. You are right there, making those turns. And that sets off endorphins like you would not believe. I think that brings you to another level where you just know what you have to do.
MP: What was your motivation behind snowboarding the Grand?
DD: It was just to do it. I love snowboard-mountaineering. I didn't do it for what went down in the books. I did it for me.
MP: How do you see yourself connecting to the long list of Jackson Hole mountaineering legends?
DD: It's mind blowing that I could even be considered anywhere near them. But I think everyone who goes out there and enjoys it, connects to that legacy on some level. In the end, we do it because we love it.