FIRST TRACKS: Bill Briggs
Written by Robert Z Cocuzzo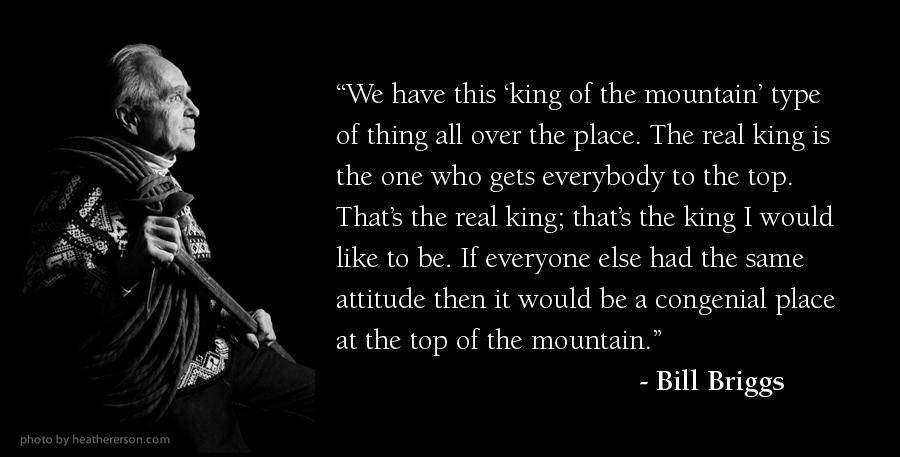 Photo courtesy of Heather Erson www.heathererson.com
The history of skiing is sewn in the mountains, written in tracks that time has long since filled. Though marked on different peaks, all tracks connect and continue to propel the sport. Some, however, cut deeper than others; a turn is made that triggers an avalanche altering everything. In 1971, Bill Briggs made such a turn down the face of Grand Teton, becoming the first person to ski the 13,775 foot peak that looms over Jackson Hole.
Now a senior member of the North America's ski fraternity, Briggs sips coffee with us at his daily breakfast haunt, The Virginian. As he details his many adventures, high-pitched laughter punctuates harrowing accounts of going snow blind after skiing Norway's highest peak, or of carrying an injured climber down from Teewinot on a fused hip. Youthful exuberance beams from the wizened mountaineer. In the background, a black and white photograph of Brigg's historic first descent of The Grand hangs, making the encounter all the more surreal.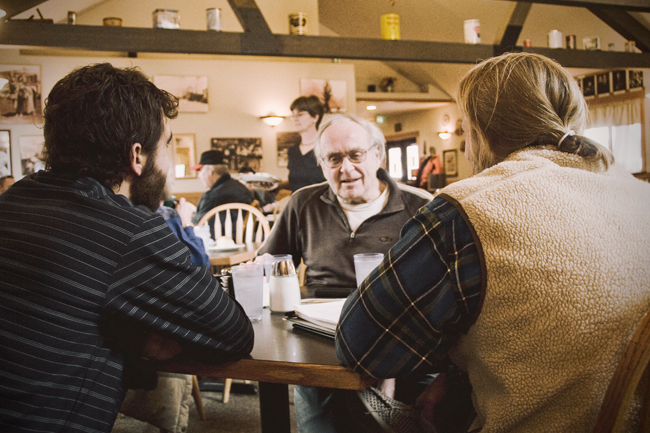 Over bottomless coffee, Briggs guided us back to the early days when mountaineering was more than just a calling, it was character-defining. "My English teacher at prep school was Bob Bates, and he was eventually the president of the American Alpine Club," Briggs says, rubbing his forehead as if polishing dust from the memory. "He got me started rock climbing and mountaineering. He was such an outstanding man. I thought if mountaineering had any part in making him who he was, I wanted it."
Though admittedly not the strongest, Briggs exhibited natural leadership in the mountains, and quickly rose up the ranks of his climbing cadre. What he lacked in strength, he made up for in gusto. On a winter trek up Mount Lafayette in New Hampshire's White Mountains, Briggs tapped into an energy that he would source thereafter.
Hiking to a cabin by moonlight, Briggs and his prep school companions were suddenly halted on the snowy trail like a derailed train. Up ahead their guide was passed out in the snow, his ice axe frozen to his wrist in the 30 below temperatures. Though already shouldering the pack of another, Briggs instinctively took up the burden of the group. "My determination at that point was: we need to get to the cabin. So I went up and broke trail to the cabin, dumped the packs, and then came back down to get the guy who passed out, who actually was a Mount Rainier guide," Briggs recalls, his face flushed with amusement. "That's my first mountaineer experience, and I loved it! I thought: what a super scene this is! And here I am part of it in a leading role, obviously capable of mountaineering."
Climb and climb again, a young Briggs won the endorsement of some of mountaineering's most decorated. During their first ascent of The Grand, Briggs and his brother Peter met Willi Unsoeled, a climbing demigod famous for his participation in the first American summit team on Everest. "This is my first time on the Grand," remembers Briggs. "We had already put new routes up on various things like Mount Moran and we climbed all the Cathedral Peaks, and so on and so forth. Because we had done all these things, Willi says 'Why don't you become guides?'" Though emerging as an accomplished mountaineer, Briggs revered guides as elite. The profession was earned solely through experience, a resume built on first ascents, safe descents, and courage. So began a mission to become "qualified" in the mountains.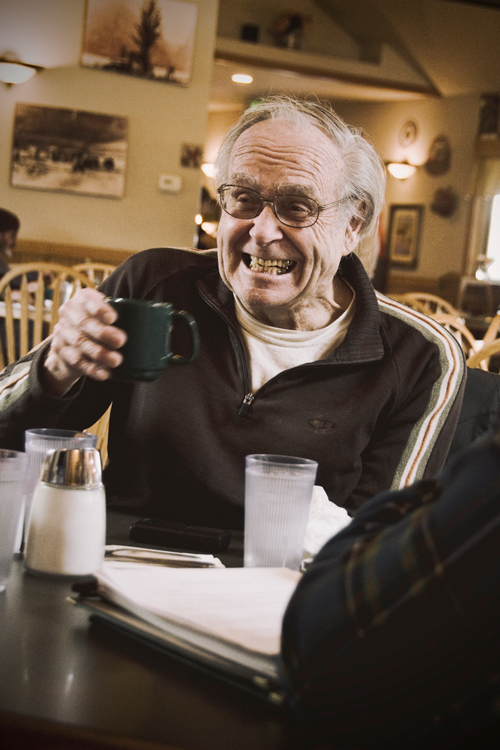 Returning to Dartmouth that fall, Briggs led the college's climbing program. Officially the program was under the watch of a Swiss guide, but for all intents and purposes, Briggs was on belay. "It got me into the teaching of rock climbing," says Briggs. "I was more or less taking advantage of opportunities as they came along. Here's this Swiss guide that's suppose to be running the rec program, but I'm running it! Nonetheless, I was still not confident that I was qualified."
Briggs pauses, and setting his gaze on some nondescript item on the table, gingerly draws a sip from his coffee. With his head bowed, he mentally sifts through the annals of a lifetime. Wiping his mouth with a crumpled napkin, he raises his head and returns to the story: "I had read about Conrad Kaine and his book Where the Clouds May Go, about being a guide in the Canadian Rockies. I found it inspirational, and then went on to do his route on Bugaboo Spire. We put up the fourth ascent. Having done that, we put up new routes, a number of first ascents in the Bugaboos."
Forays in the Bugaboos inspired Briggs to fuse mountaineering and skiing: "I'm taking a look at the Bugaboos and thinking Gee it would be a lot easier if we were on skis, getting from one climb to the other." Always the first to go, Briggs traversed alone over The Conrad Ice Field, leaping over crevasses that would otherwise consume a trekker on foot. One unfortunate day, a member of his team fell into a forty foot crevasse. Injured but alive, the man lay helplessly in a cold pit of ice. Skiing to his rescue, Briggs employed the techniques of ski-mountaineer Colonel Bill Gary to retrieve the man. He highlights the rescue not as a tale of heroics, but as a point of progression. Years away from his historic descent in Wyoming, Briggs was garnering the skills he would employ on that fateful day.
While earning his stripes in North America, Briggs knew the real proving grounds lay across the pond in Europe. So he embarked on a pilgrimage, exploring the mountaineering Meccas of the Old World in search of first ascents. As he recounts his adventures, there is a sense that he has too much to tell, too many notable climbs to cover over a casual cup of coffee. Instead, he touches upon them in brief detail, guiding us from the British Isles to Norway to Chamonix like a boat navigating the tips of epic ice bergs. He nonchalantly mentions skiing Norway's highest peak, a descent which struck him snow blind. Each account reveals the richness of his life, and casts an aura around him.
Above the Arctic Circle with the luxury of endless days, Briggs chartered a new route in Europe. On this point he slows, and describes the climb's harrowing final pitch, relishing in the technical details: "The snow pitch turned into rock with one crack in it. I put my ice axe into the crack, pulled it down, and it stuck good. So I climbed up the ice axe, managed my way up on it, then I stood on it." Falling back into his chair, he enjoys a fit of laugher over the moxie of his youth. He catches his breath, and concludes the account: "Then I pulled all the other guys up and over."
In a tradition that honors the first to the summit, Briggs was uninterested in personal glory. Coolly aplomb in the mountains, he sourced his confidence for the benefit of his team. Whether it was breaking trail for his fellow students in prep school or pulling his climbing companions to the top of that peak in Norway, Briggs viewed the mountains as a place where community mattered most. "We have this 'king of the mountain' type of thing all over the place," he muses. "The real king is the one who gets everybody to the top. That's the real king; that's the king I would like to be. If everyone else had the same attitude then it would be a congenial place at the top of the mountain."
We came to this interview eager to talk about his historic first descent. We wanted to know what route he took, what the snow was like, what skis he was on. But by the first cup of coffee, Briggs became so much more than The Grand. He embodies the mountaineering tradition, his life punctuated by the first ascents that have catalyzed progression. More importantly, Briggs possesses unique wisdom, found only in the inaudible whispers of the mountains. So we put the notebook down, and let this man guide us to the top.
To be continued…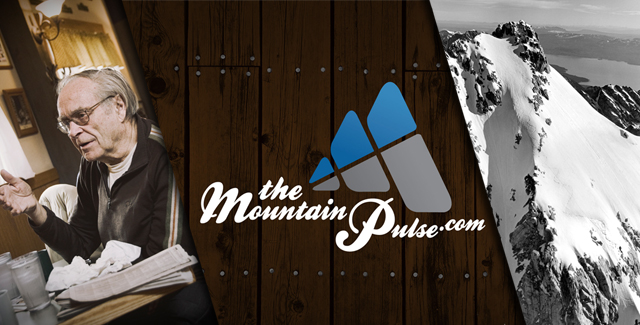 Read the second half of our interview with Bill Briggs coming soon on www.themountainpulse.com