Holding It Down for the Ladies: Jess McMillan
Written by Robert Cocuzzo
The Mountain speaks for itself. We probably have the most challenging and diverse mountain in the lower 48
Testosterone weighs heavily over the Tram line. A quick survey of the 8 a.m. gathering reveals just how potent it is: corralled like cattle, men are hacking up phlegm, adjusting their undercarriages, and trading last night's war stories like Magic cards. "Dang, all dudes," one comments. "Don't worry," says his buddy, nodding to the lone female in line, "Jess will hold it done for the ladies."
"Jess" is Jess McMillan, 2007 Freesking World Tour Champion and beloved Jackson Hole native. With The Tour hitting Jackson in a couple weeks, The Mountain Pulse team was thrilled to get a chance to sit down with Jess and pick her brain.
After a phenomenal pow day, we meet Jess at the Alpenhof for some apres beers. Even before delving into the questions, Jess's down-to-earth personality is apparent from the introductory handshake. She emits a genuine kindness when she speaks, drawing us into her confidence like longtime friends. Striking, Jess beams a disarming smile that causes me to bumble my words: "The line between men and women in the big mountains… is getting… more and more… gray…I mean… I look at some of the footage of what you are doing and… it's…. insane."
"Thanks," she says, half blushing as if I had just complimented her on a nice dress.

Jeeze, she is cool, I can't help but think.
Objectivity may be lost, but I continue with the questions nonetheless.
MP: Jackson Hole produces some of today's big mountain greats. How did growing up in this mountain community propel you to becoming the skier you are today?
JM: The Mountain speaks for itself. We probably have the most challenging and diverse mountain in the lower 48. There is really nothing else that compares. So growing up— skiing the Alta Chutes, skiing the Hobacks, skiing the Experts— you don't think anything of it. And then you get to other resorts, and you're like "Wow, where are those big chutes? Where are some of those lines?" The mountain itself trains you. It's funny, people come for a year from Georgia or wherever, and by the end of the season they're ripping. The mountain is going to teach you how to ski.
The other part is the community here. Being as small as it is, it really supports skiing and the outdoor lifestyle. A lot of people say that you never grow up in Jackson—which is partially true. That's why people are so healthy and vibrant; they have passion for the outdoors from winter to summer. So it's the combination of how amazing the mountain is, and then the support of the community in that passion.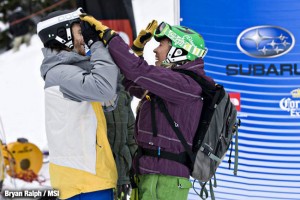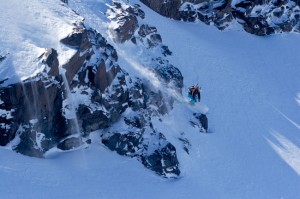 MP: What got you into the big mountain competition scene?
JM: Well I quit skiing after college. I fell in love with kayaking, and became a pro kayaker. I spent four years just kayaking, the endless summer. One summer, I had five friends pass away, and it really messed with my head, so I moved back to Jackson and skied for the winter. I was working race crew at the resort, which is probably the best job on the mountain because anytime you have a powder day, you don't open. It's awesome.
So I did that, and met a lot of people who were competing and they kinda said, "Jess, you could win these things." I had never really heard of it before. I went to my first one, ended up placing fourth, and was addicted. It was fun.

MP: How do you go about picking your lines for competition?
JM: For the US based circuit, it is definitely line based. And because you can ski your line beforehand—you can hit your airs, and check your landings—I really think about the judging and how to pump up my line score. It's definitely a mathematical equation once you figure out what the judging is like.
The European tour that I have been competing on for the last three years, you cannot ski your line beforehand; it's visual inspection only. So I've been skiing a much more natural line. I'll look at a mountain and figure out what looks really fun to me, or what line I would be super stoked if I skied well. Then from there you start picking it down: do I have the ability to ski that line? If I mess up, am I going to get hurt, am I going to die?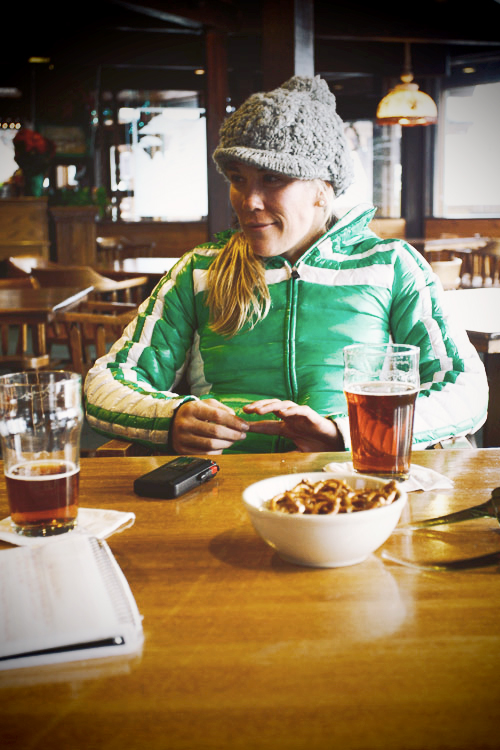 What I am noticing with the top women in the world is that they might still hit the biggest air, but they find this flowy way to get to it— as opposed to just going straight there
MP: When you were growing up, who did you look to as your inspiration?
JM: Doug Coombs, I mean he was definitely one. And being a ski racer, Tommy Moe was huge. I'll never forget when I got my first pair of Tommy Moe signed skis; I thought they were the coolest. Just on that note, it's crazy to think of that experience and then I was just in Portillo rooming with Tommy Moe. The progression of everything is unreal. You know that's the cool part of the Jackson Hole community too, it's a small world.
MP: Where do you see women bringing the sport?
JM: I think women, honestly, are right there with men. Men are still the ones pushing the sport, and women are still trying to catch up. The cool thing that I've noticed is that when men ski, they're more aggressive, while women are a little more "flowy". We are not as strong, and we have this instinct of preservation which men don't. You will see it when scouting lines. What I am noticing with the top women in the world is that they might still hit the biggest air, but they find this flowy way to get to it— as opposed to just going straight there.
On the industry side of things, women buy 60% of the clothing. So I really think we are going to have a big impact in the next 10 years.
MP: On that point, you work with Spyder; is there any gear coming out that smacks of your influence?
JM: Yes. It was really hard for me to leave Cloudveil. I skied for them for six years, they are a Jackson Hole company, and it was a good bond for me. Moving over to Spyder has been absolutely incredible, as far as being more involved. I actually have a voice. I met with the head designers in April and told them what I want in a line, which was crazy. My line is called The Matrix, and I am super psyched about it. It's very technical, pit-zips, the material is amazing, super bomber, and it's cute. It's not super fancy, but it's definitely sleek. I tested it in Portillo, and I'm psyched.
MP: Who do you think is pushing the sport for women?
JM: I think any of the women that have been out there doing it. It's not even just the women in the magazines doing it; it's the girls in Jackson in the Tram line at eight in the morning. Those are the ones pushing the sport. It's the community of everybody; I don't think it's just one woman.
The Subaru Freeskiing World Tour will stop in Jackson Hole January 27th – 30th 2011. Freeskiers Jess McMillan and Griffin Post preview the action
Jess McMillan picks her favorite skis for 2010/2011 and lets us know about her new line from Spyder.