Miller Time: Darrell Miller and Storm Show Studios
Written by Robert Cocuzzo
The mainstream ski film is not what's going on. It's not what happens in the mountains on a day to day basis
The Brew Pub is hardly the set of Inside the Actors Studio, but for interviewing Storm Show Studio's director Darrell Miller, there's no better spot. Behind a fortress of pint glasses and reeling from a deep day riding, we converse pleasantly fatigued. Miller sips Pako's IPA from his mug complete with Storm Show insignia and a sticker paying tribute to the late DJ King Weep. Though soft spoken, Miller is nearly impossible to interview without picturing some of the burly lines he has conquered over the years.
In this age of extravagant ski films, Miller's homegrown Storm Show Studios captures a season in Jackson Hole from the trenches, where gritty shots of first descents rival music-driven montages. While most directors narrow their lenses on pros catching face-shots on nondescript slopes, Miller pans out. "I am trying to show the beauty of the mountain first and foremost, and then what people can do on the mountain secondly," he explains, holding his mug of IPA like a microphone. "You could make a movie just filming these mountains sitting there. It's mind-blowing, watching these mountains. That's where the props go."
He takes a swig of his beer and continues, "We are all just focused on big mountains, powder, and natural features; we are not building kickers. We are not doing things that the mountain doesn't already provide."
Hiking, skinning and climbing to get the shots, Miller's films are the product of utter manpower, or in this case, one-manpower. Though collaborating with a posse of local skiers and riders that share the filming burdens, Miller is a one-man-workforce when it comes to all other aspects of Storm Show, the "whole gambit" as he calls it. "I am a one man editing show from beginning to end," he explains. "By doing that, I have one vision, which helps create a story- opposed to having a bunch of different editors with their fingers in the pot which can muddle the vision."
Miller's on the ground approach earns his films a perspective so often lost in today's ski cinema. "For me it's trying to inspire people, and show what's really going on out there," he says. "Because the mainstream ski film is not what's going on. It's not what happens in the mountains on a day to day basis."
He sets his mug on the table, and continues: "Most of our shooting is done off the hip; I never carry a tripod with me. It's all backpack tripods…Sometimes it shows in the flicks that we are not using tripods, but I think it gives them the raw feel too. It's not all set up and staged."
What Miller may lack in helicopters and expensive cameras, he more than makes up for in gnarly footage, boasting lines that few (if any) have ridden, and many don't dare consider. Even from the comfort of your couch, beer in hand, watching Miller negotiate the boney descent of Cora's Couloir or Mike Tierney stringing a mindboggling line down Cody Peak has you utterly gripped. Add a few more beers to the equation, and you might end up curled in the fetal position, cowering in fear.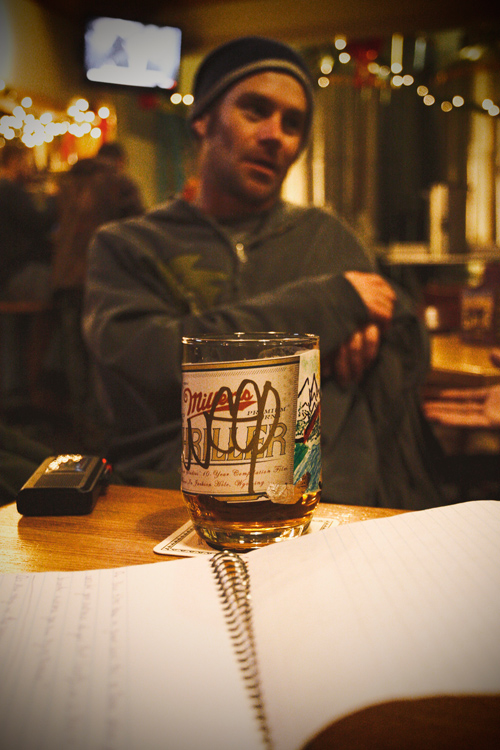 These aren't just athletes and models; these are my lifelong friends that I am going out with. They're my brothers, so I care about what they are doing
Though the camera may be focused on one or two athletes at a time, the camaraderie in Miller's films is invariably apparent, illustrating the tradition of brotherhood in the backcountry. "Of course I like to get a good shot, but I do not want to see anyone get hurt," Miller says. "These aren't just athletes and models; these are my lifelong friends that I am going out with. They're my brothers, so I care about what they are doing. We say 'no' a lot."
"Darrrrrrrrell," someone calls over.
Raising his beer, he responds, "Yo!"
Miller is as local as it gets, and his films exude that aura in waves. Rarely filmed outside the valley, Storm Show celebrates Jackson's hard-charging lifestyle in the mountains and beyond. And while outside markets relish in this authenticity, Miller never waivers from his target audience: "Our films definitely appeal to a bigger audience, but when I am sitting down making the movies and editing, I am thinking about the Jackson crowd. So for the people who are stoked, I definitely make these movies for the Jackson audience."
Miller's latest film, "Millers Thriller" tells the story of Storm Show Studios, bringing audiences back to the formative days of Jackson Hole snowboarding when half-pipes were crude and the potential of local ski films was just being realized. "I started snowboarding in '88, so I wasn't messing around with cameras then," Miller remembers. "After high school, I got my skills down in the mountains, I saw what TGR did here, and kind of opened my eyes to the terrain we have here, and the people ripping these lines. Just put two and two together."
As my tape recorder clicks off, I pose one last question, "So Darrell …any thoughts on this year's title? 800" maybe?
He chuckles, and finishes his beer, "Time will tell…"
Millers Thriller and all other Storm Show releases are available for purchase at thier website www.stormshow.com