The Realm of Theo Meiners
Written by Robert Cocuzzo
If you are going to rule, you have to ride in the kingdom. And this is the kingdom, the Kingdom of the Hole.
Deep in Alaska's Chugach Mountains, a helicopter touches down and unloads skiers and riders onto a remote peak. The din of the chopper's blades echoes the pounding hearts of the group as they disembark. After flashing a thumbs-up, the pilot pulls back on the stick and leaves his precious cargo in a blizzard of snowy rotor wash. Profound quiet fills the thin air. Just below their perch, too steep to fathom, a lifetime of snowriding dreams await. This is the realm of Theo Meiners.
As owner-operator of Alaska Rendezvous Heli-guides, long-time Jackson Hole skier and patrolman Theo Meiners lives the epic tales that circulate lift-lines and gondi-rides. From skiing under the tutelage of Pepi Stiegler to exploring the great Alaskan range with Doug Coombs, Theo's stories honor the legends of Jackson Hole. In our humble opinion, Theo Meiners is a legend in his own right.
Recently, The Mountain Pulse sat down with Theo at 43 North for an interview.
MP: How is Jackson Hole a training ground for big mountain riding in AK?
TM: If you are going to rule, you have to ride in the Kingdom. So if you are going to rule in Chamonix, if you are going to rule in the Elk Mountains of Colorado, you have to learn to ride in the kingdom. And this is the kingdom, the Kingdom of the Hole.

It's the same for Alaska. We use the same ethic no matter where we go. All the great riders come through Jackson at some point every winter. The world tour comes to Jackson every December and January. The same people I see in Las Leñas and Portillo, the same people I see in the Chugach on Thompson Pass and Valdez, I see here.
MP: What is at the core of the Jackson Hole local?

TM: Well it's just love of life, and love of community… Jackson is a rural setting, and to have this level of skier come out of here generation after generation says so much about the dedication to the lifestyle. And it is a lifestyle. There are a lot of sacrifices that people make in order to live in this community. They're rich in blue sky, and rich in powder, and rich in trout, but they don't have a lot of monies. They get by. They get by from season to season so that they can get back in the mountains and get on the rivers, and live with clean water and clean air, surrounded by people that have a like spirit.

MP: What is unique about the Jackson Hole ski and snowboard community?
TM: Everyone feels there is camaraderie here. There is a multigenerational connection that's four generations. The ranchers first started the skiing here all the way back in the 30's. Then came the Olympians; they trained here on Teton Pass, thus Olympic Bowl. And so it started a tradition. The Jackson Hole Ski Club is one of the oldest ski clubs in the western US. And there's a legacy of pioneers that we all aspire to be like, because they really launched us all… Some of the really iconic names in American skiing still live in the community, and they're our great grandfathers. We all aspire to continue that tradition, and push it forward.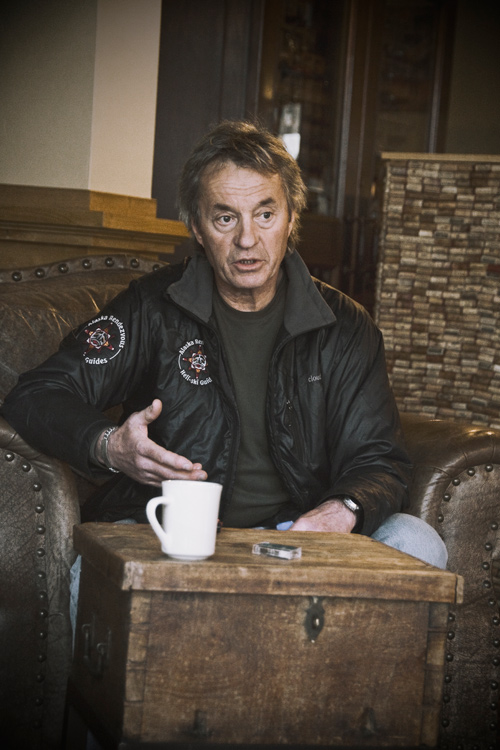 MP: What role did Jackson Hole skiers and riders play in opening up the heli scene in Alaska, like Doug Coombs for instance?
And off into the Chugach we went, exploring the great range with the great one.
TM: Doug went to Alaska with all the skills he had acquired in Jackson; when he was in the kingdom, he was ruling. So when he went to Valdez, it was just this huge playground to him where everyone else was so intimidated by the scale of the mountains. But not Doug, to him it was just "wow."
Man he took off. It was amazing to watch his skiing. First you had similar skills, and then he was better, then all of a sudden he was greater than everyone. Just a true inspiration— the guy was so amicable, and so nice to everyone, and shared everything he had. Lived like a pauper, but yet he was the king, the true king.

He brought us all back to Alaska (I grew up there). He just started bringing us in, all the riders from the Hole. All the snowboarders and skiers who had association with him, he brought us into Thompson Pass. And it went viral. All of a sudden we were his guides; we were exploring the terrain with him…And off into the Chugach we went, exploring the great range with the great one.
MP: Riders like Jeremy Jones are pushing the envelope of what's possible in big mountain riding, where do you see it going?
TM:  Well you know Jeremy Jones is another true inspiration, because he believes in fusion. He is one of the first people that brought that concept to the big mountain scene, if not the first person. So Jeremy believes in taking all the freestyle moves that we have in the parks and ski slopes and delivering them with speed and power to the big mountain scene. The next person that does this is Travis [Rice]. Travis is unbelievable. He is taking it to the next level.

Even though posses [in Squaw and in Colorado] are fantastic, Jackson is core. And there's one thing you have to realize: you don't pick core, the core picks you. Jeremy Jones is part of this community, as is Travis. Those guys man, they're the ones really setting the pace.

On the skiing side, there are so many great skiers out there pushing it, pushing each other. We have a really young posse here in Jackson just waiting for the next king, the next heir apparent to the throne to step up. And there are a bunch just joisting for it right now. It's exciting, really exciting.
MP: Can you talk a little about the work you have done in avalanche awareness?
TM: I was Assistant Regional Avalanche Advisor for the National Ski Patrol for the Northern Inter-mountains during the years I worked at Snow King as ski patrolman. I have a lot of experience identifying avalanche terrain, and mitigating avalanche. We do it passively, we do not use explosives. It's direct action: you access slope stability through stability tests, you quantify the risk, and you try to maintain margins. Then the same question over and over again: to go or not to go. It's an option to go, but it's not an option to come home. You have to come home. So you got to make a good call on how you can ski the run.
Education is really important. And continuing your training is very important. There is no resting on your laurels. The mountain and the snow pack don't know that last year you got an award as a great instructor. You have got to continue to keep your head and mind, your spirit in the snow all the time, trying to figure it out.
Theo Meiners using direct action to conduct avalanche hazard reduction in the Jackson Hole backcountry

MP: What is at the foundation of avalanche education?
TM: First of all, I think it's really important we all have a mentor or several mentors. You can go and get credentials, but until you actually have mentors that show you the ropes, show you the routes… you just don't get it. All the education in the world in a classroom doesn't really make it real…You need to know who to go with, because there is fight, flight and freeze. You can't have someone runaway, you can't have them freeze. They have to fight for your life, as you'll fight for their life.

I really suggest to everyone: never stop training when it comes to avalanche, and never stop learning. Be a consummate student of the mountains and the snow pack. We have several really good avalanche educational institutes that are based in Jackson. Take a class, or lose your ass.

MP: Do you think people will be mapping out the backcountry beyond the Ski Atlas?
TM: Yes, absolutely, because the population is growing and the enthusiasm for the backcountry experience is growing. And that's great. Before the Jackson Hole Air Force, there were ski pioneers. Virginia Huidekoper and her posse skied from Flag Ranch all the way to Ski Lake (that's how Ski Lake got its name.) Early on, before World War II, they skied 60 miles, 70 miles on the spine of the Tetons mid-winter. So that's the spirit of this land. And people are still following those tracks, and they don't know it. They think they're the ones out there pushing it, but we're still really in the tracks of the pioneers. So we have to regain all that ground again. And it's happening.